Call Now For a Free Quote!  770.822.9843
Tree Removal You Can Trust
Tree Pruning For Safety And Looks
Let our team of certified tree experts help maintain healthy trees on your property. Routine maintenance for tree pruning can include cutting branches that are near power lines, over a driveway, pool or home. We'll bring down the branches that could cause significant damage.
For cosmetic purposes, pruning unwanted branches on trees and trimming leaves will give your property more curb appeal and an attractive appearance to guests. Call E-Z Tree Services for all your tree care needs.
Shrub Pruning
Many homeowners are aware of the fact that their plants and shrubs need occasional maintenance. However, due to the fact that many home and business owners have had their property designed by a professional landscaping company, they hesitate to trim the overgrown branches 
Shrub trimming is one of those tasks that homeowners tend to avoid. Many times simply due to the possibility of destroying or damaging one of their plants, or even from a total lack of knowledge, people neglect their shrubs until they're out of shape resulting in the leaves and flowers looking wiry and overgrown.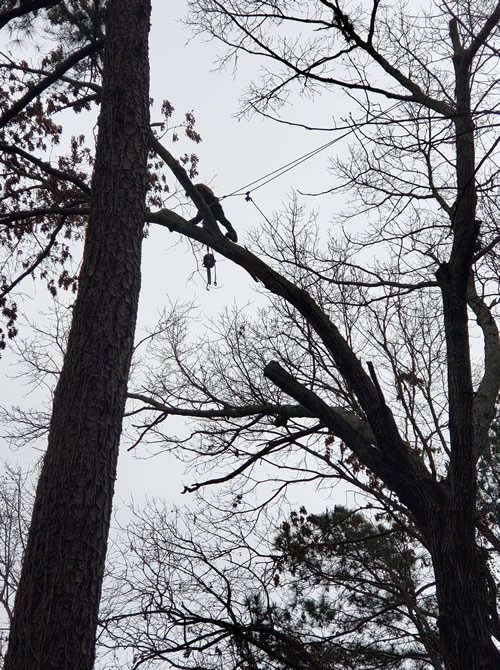 Tree Pruning
Removing dead, diseased, or broken limbs can reduce the risk of the tree succumbing to more damage either from disease or from high falling branches.
Spring Tree Pruning is not only a necessity but also necessary to promote healthy growth throughout the tree. While pruning small bushes around your property that may require a small step ladder is typically safe for homeowners we always suggest anything you cannot reach from the ground be left to our crew so we can safely remove any unsightly or damaged limbs.
Tree pruning is a good idea for the following reasons: 
Removed dead and diseased limbs
Reduce wind resistance of a tree
Control tree growth and size
Enhance the appearance of your property
Let E-Z Out Tree Service help you with all your tree pruning and tree removal needs.
Why Choose E-Z Out?
One thing is for sure, removing dead tree branches or entire trees is dangerous work. That's why you want to choose carefully when calling a tree removal company. Here are some of the reasons we thing we're a great call:
Arborist on staff

Emergency 24-hour tree removal services

Licensed & Insured

Over 30 years of experience

Family owned & operated

Residential & commercial tree removal

Experts in hard to remove trees
We take pride in treating our customers like family. Every job we receive big or small receives the same high-quality assistance we strive to be known for. We've known some of our customers for decades now. Let EZ Out Tree Removal be your first call when you need help with your trees.
For a free quote, give us a call.  770.822.9843
24 Hour Emergency Service!
24 Hour Emergency Service!
Safety is Our Priority! 
Cutting down trees is always risky. That's why when you call to have a tree removed, we send out an expert team of climbers and cutters to safely lower removed limbs to the ground to reduce mess and improve safety. Protecting the surrounding environment is always one of our top priorities. All removed limbs and wood are chipped and hauled off site. Any removed debris is taken to be completely recycled to make sure nothing is wasted.
Our crews take great pride in their job and our cleanup services has been reviewed as "immaculate" by our many satisfied customers. With our experience, we have acquired an excellent reputation and strive to be the best company in our field.
Frequently Asked Questions
There are a few things you might be wondering about how our service works, and how we determine pricing etc. Listed below are a few questions most customers generally ask when looking for tree services.
Do we provide free estimates?
All our estimates are absolutely free with zero obligation on your part.
Are we Licensed and insured?
Here at EZ Out Tree Service, we carry general liability insurance and workers compensation. We have a certificate provided directly by our insurance provider.
How do we determine the price for tree removal?
When we provide an estimate on any given job, we base the pricing on four different factors. We determine your final price by examining the location, size, accessibility, and the need for complete removal of all limbs, wood, and debris. We also accept check, cash, and all major credit cards for payment.
Our Service Area
Across the decades, we've worked with thousands of home and business owners all around the metro Atlanta area. We're located in Lawrenceville, but we've worked with customers all around Buford, Lawrenceville, Braselton, Dacula, Hamilton Mill, Buford, Statham, Winder. We provide service all over Gwinnett and Hall counties. Call us for a free consultation today. 
For a free quote, give us a call.  770.822.9843
American Owned and Operated!
For Your Protection: We are Licensed, Bonded, and Insured.
Tree Removal Service Area