Tree Removal Services For Any Need
Everyone enjoys the trees around Atlanta- until one gets in the way. For the past 30 years, whenever a business or homeowner needs tree removal services, they've called the experts at E-Z Out Tree Service. We make safety and customer service our top priority. 
We're proud to be an American owned and operated tree removal company. We specialize in the hard to reach or impossible to take down trees. In fact, we're often the tree company that other tree services call when they don't have the equipment to get the job done. Why pay more? Just call us directly.
We work hard to protect your home and business from damage associated with trees and the problems they can cause. 
24 Hour Emergency Service!
24 Hour Emergency Service!
Difficult Tree Removal
Trees add so much to our surroundings, but when they threaten to damage our homes, business or property, it's important to call in an expert. Taking down problem branches or trees is never a safe DIY project. Tree removal is never as simple as it looks. It's always better to play it safe and leave branch or tree removal to the experts.
We're one of the few tree services who have a 90-foot lift that we can fit through a 4-foot gate. It's referred to as a spider lift, which means we can take our lift nearly anywhere for any job.
Since most trees in Georgia are no taller than 100 feet, we've got everything we need to help you take down any tree that might be a threat to your property. Call E-Z Out Tree Removal whenever you need an affordable tree service.
Stump Removal/Stump Grinding
Once the tree comes down, you're left with a stump that can be unsightly. For some homeowners, they try to remove the stump with various home remedies, but nothing works better than having an expert do it. E-Z Out Tree Service is here to help.
We have the right equipment to remove the stump and grind it up into mulch. No matter how big or small the tree stump is, we can get it out of your yard. Let us help you get rid of your tree entirely. Call us for our expert stump removal services. 
We're owner operated which means we're out on jobs. When you call us, you'll talk to one of the owners. We're involved in all the day to day work so that every job is done to your satisfaction.  
For a free quote, give us a call.  770.822.9843
Emergency Tree Removal 
Few things can be more disconcerting than having a tree come down onto your home or business. The truth is, when large branches or entire trees fall on your property, it can disrupt your life. That's why there's E-Z Out Tree Service. 
Day or night, we're ready to come out and help you. While some tree services might try to gouge you in an emergency, our pricing is always the same. We'll give you our prices before we get started and we'll work with your insurance company to help you pay as little out of pocket as possible. 
We understand that Mother Nature is not on a schedule. Call us whenever you need any help with tree removal. 
Our Guarantee
We stand behind our work
E-Z Out does not expect payment until the job is complete and the customer is 100% satisfied.  If not satisfied, we will do everything we can to make it right!
For a free quote, give us a call.  770.822.9843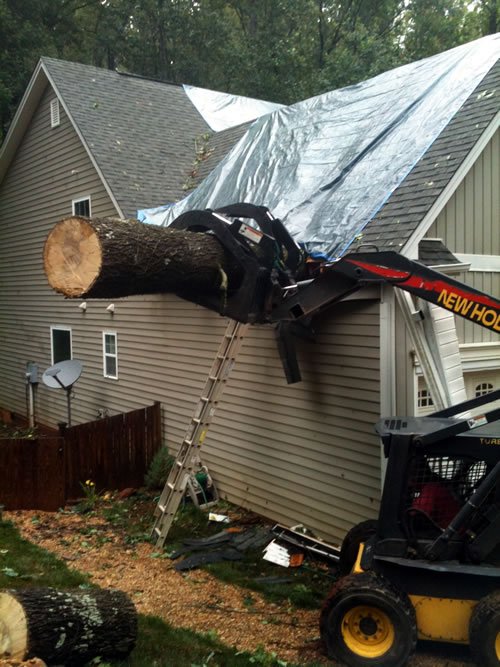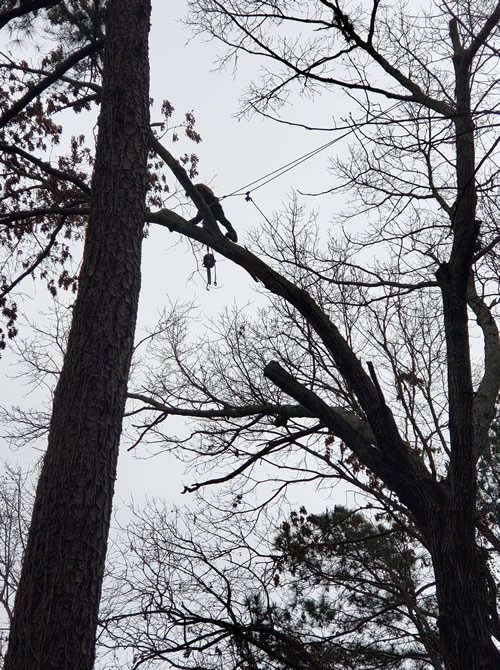 Tree Pruning 
With all the wonderful trees we have around Atlanta, there are times when branches die off or simply pose a treat to your property. That's the time to call E-Z Out Tree Service. 
For over three decades, we've been helping people manage all their trees. There are definitely times when we recommend tree pruning services. We have the right equipment to get as high as we need to (along with expert tree climbers!). We can get the job done quickly, efficiently and affordably. 
Let the tree experts at E-Z Out Tree Service help you keep your branches where they belong. We'll help you get rid of the anxiety about the next storm. Call us today and we'll get to work today. 
Underbrush Removal
Sometimes, you just want to reclaim your yard again from nature. At E-Z Out Tree Service, we have the right equipment to clear out dense underbrush. Let us give you your yard back. 
Similar to a big lawn mower, our equipment clears away brush but leaves the topsoil. The results leave you with mulch that helps feel your soil. From there, you're free to reseed grass or do whatever you want. 
Insurance Work?  No Problem!
We Deal With Your Insurance Company Directly
So many of our customers have trouble with their insurance companies when a tree falls.  They wind up being the middlemen in a sutiation where they're trying to get an insurance company to pay for a fallen tree that has or could damage property. Instead of you dealing directly with your insurance company– we deal with them for you, since we know what they will and will not pay for the removal of a tree.  Most tree companies won't do that, but it's one of our specialties.  We remove the tree, deal with them, and all you have to do is watch your fallen tree or dangerous tree get removed without the headache.
Call for a Free Quote!
E-Z Out Tree Service

770-822-9843
269 Buford Drive
Lawrenceville, GA 30046
Call for a Free Quote!
American Owned and Operated!
Tree Removal Service Area