Call Now For a Free Quote!  770.822.9843
Tree Removal Services For Any Need
Everyone enjoys the trees around Atlanta- until one gets in the way. For the past 30 years, the experts at E-Z Out Tree Service have helped home and business owners with professional tree removal services.
We're proud to be an American owned and operated tree removal company. We specialize in the "hard to reach" or "impossible to take down" trees. We work hard to protect your home and business from damage associated with trees and the problems they can cause. 
Difficult Tree Removal
Trees add so much to life, but when they threaten to damage our homes, business or property, it's important to call in an expert. We've gotten a lot of calls from amateurs or do-it-yourselfers who need help removing branches that were heavier than expected or entire trees that could have destroyed property. It's always better to play is safe and leave branch or tree removal to the experts.
In fact, we're the tree company that other tree services call when they can't (or don't want to) take the job. Why? Because we're one of the few tree services who have a 90-foot lift that we can fit through a 4-foot gate. It's referred to as a spider lift, which means we can take our lift nearly anywhere for any job.
Since most trees in Georgia are no taller than 100 feet, we've got everything we need to help you take down any tree that might be a threat to your property. Call E-Z Out Tree Removal whenever you need an affordable tree service.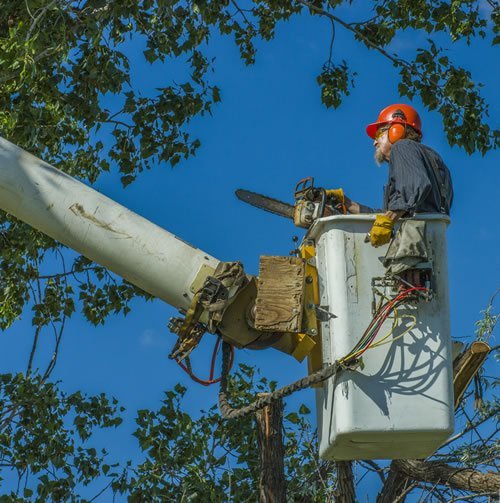 24 Hour Emergency Service!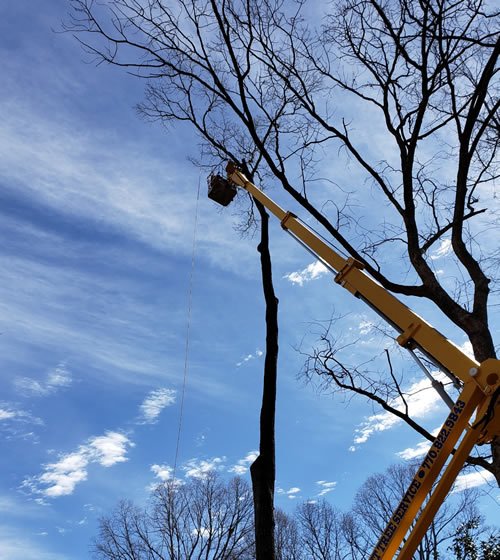 Need Tree Removal In Duluth?
It's no secret that tree branches can cause a massive amount of damage to your property. But, how do you know if the branches or whole tree needs to come down? That's why we have certified arborists on staff.
We can come to your home or business and assess the health of your tree. With more than 30 years of experience, we can tell you where trees pose a specific risk to your property.
It's always recommended that you consider removal services should you find that the trunk of the tree is severely damaged including vertical cracks. Also, if you spot any large dead branches or dead limbs on a particular side of the tree removal is highly recommended. The first step you should take is to call us and get an expert opinion on your situation to decide the best course of action.
Why Choose E-Z Out?
One thing is for sure, removing dead tree branches or entire trees is dangerous work. That's why you want to choose carefully when calling a tree removal company. Here are some of the reasons we think we're a great call:
Arborist on staff
Emergency 24-hour tree removal services
Licensed & Insured
Over 30 years of experience
Family owned & operated
Residential & commercial tree removal
Experts in hard to remove trees
We take pride in treating our customers like family. Every job we receive big or small receives the same high-quality assistance we strive to be known for. We've known some of our customers for decades now. Let E-Z Out Tree Removal be your first call when you need help with your trees.
Our Guarantee
 Our staff is invested and passionate about doing every job right. In fact, we don't expect payment until the job is complete and the customer is 100% satisfied.  If not satisfied we will do everything we can to make it right!
Reasons To Remove Trees
Below we have listed a few of the benefits associated with our services.
Creating Space: Trees often take up much need space for additions such as a shed, pool, decks, and any other expansions to add value to not only your home but your day to day life.
Protection from Falling: Trees that have begun dying can be a huge risk to people, cars, roofs, and even power lines. Contacting a professional allow you to get a better opinion on the best course of action to protect your investments.
Improved View: Depending on the position of trees around your house, they can have a huge impact on your view of the area that surrounds you.
Damage to Driveway, Sidewalk, and Foundation: Different types of trees can have enormous expanding roots. As they continue to grow, they can cause severe damage to any concrete structures on the surrounding property leading to an immeasurable amount of damage.
Improved Street Appearance: Trees planted in certain areas around the front of the home can impact your home's appearance to other people. Removing or trimming these trees can greatly improve the appearance and value of your home.
Safety is Our Priority! 
Cutting down trees is always risky. That's why when you call to have a tree removed, we send out an expert team of climbers and cutters to safely lower removed limbs to the ground to reduce mess and improve safety. Protecting the surrounding environment is always one of our top priorities. All removed limbs and wood are chipped and hauled off site. Any removed debris is taken to be completely recycled to make sure nothing is wasted.
Our crews take great pride in their job and our cleanup services has been reviewed as "immaculate" by our many satisfied customers. With our experience, we have acquired an excellent reputation and strive to be the best company in our field.
Frequently Asked Questions
There are a few things you might be wondering about how our service works, and how we determine pricing etc. Listed below are a few questions most customers generally ask when looking for tree services.
Do we provide free estimates?
All our estimates are absolutely free with zero obligation on your part.
Are we Licensed and insured?
Here at EZ Out Tree Service, we carry general liability insurance and workers compensation. We have a certificate provided directly by our insurance provider.
How do we determine the price for tree removal?
When we provide an estimate on any given job, we base the pricing on four different factors. We determine your final price by examining the location, size, accessibility, and the need for complete removal of all limbs, wood, and debris. We also accept check, cash, and all major credit cards for payment.
About Snellville Georgia
E-Z Out Tree Service has worked with home and business owners in and around Snellville for over 30 years now. We appreciate the history and culture of Snellville. Not only have we been members of several different professional tree service organizations, but we also do what we can to help out in the community.
Snellville Georgia is located in Gwinnett County and is a suburb of Atlanta. The name Snellville originally came from the famous Snell family who still remain prominent in the Atlanta area to this day. Originally received its charter in 1923 from the General Assembly of the State of Georgia.
Click Here For Emergency Tree Removal In Snellville Georgia.
Our Service Area
Across the decades, we've worked with thousands of home and business owners all around the metro Atlanta area. We're located in Lawrenceville, but we've worked with customers all around Buford, Lawrenceville, Braselton, Dacula, Hamilton Mill, Buford, Statham, Winder. We provide service all over Gwinnett and Hall counties. Call us for a free consultation today. Call E-Z Out Tree Services whenever you need help with any tree services.
For a free quote, give us a call.  770.822.9843
American Owned and Operated!
For Your Protection: We are Licensed, Bonded, and Insured.
Tree Removal Service Area