Emergency Tree Services in Duluth
Call Now For a Free Quote!  770.822.9843
Tree Removal You Can Trust
The Tree Removal Service That's American Owned & Operated
Everyone enjoys the trees around Atlanta until one gets in the way. For the past 30 years, the experts at E-Z Out Tree Service have helped home and business owners with professional tree removal services.
We're proud to be an American owned and operated tree removal company. We specialize in the "hard to reach" or "impossible to take down" trees. We work hard to protect your home and business from damage associated with trees and the problems they can cause.
Difficult Tree Removal
Trees add so much to the quality of life, but when they threaten to damage our homes, business or property, it's important to call in an expert. We've had hundreds of calls from amateurs or do-it-yourselfers who need help removing branches that were heavier than expected or entire trees that could have destroyed property. It's always better to play it safe and leave branch or tree removal to the experts.
In fact, we're the tree company that other tree services call when they can't (or don't want to) take the job. Why? Because we're one of the few tree services who have a 90-foot spider lift that we can fit through a 4-foot gate. It's referred to as a spider lift, which means we can take our lift nearly anywhere for any job.
Since most trees in Georgia are no taller than 100 feet, we've got everything we need to help you take down any tree that might be a threat to your property. Call E-Z Out Tree Removal whenever you need an affordable tree service. 
What Our Tree Service Does For You
When our team arrives on the scene, we will assess the situation. Taking in what information we can gather from the fallen tree, and damage to your property. Then, our teams cut down the fallen tree(s) safely and rope the branches and logs down to the ground. With respect to your property and landscape, we offer the ability to chip brush and wood products, hauling them away to be completely recycled.
Once the tree has been removed you will need to make sure the area is secured to prevent any other incidents. Before we leave, we will work with your insurance company to cover the cost of the removal and get in contact with restoration services to help get your home repaired.
Trees & Storm Damage Cleanup
Georgia has its share of severe storms, and they can be very destructive. Since 2017 we have had two hurricanes, Irma and Michael, hit our coast sending deadly tropical storms throughout all of Georgia. These storms carried heavy winds and severe rain that damaged houses, trees, power lines, etc. During these storms, the trees not only take a beating, but branches (as well as entire trees) can come down causing significant damage. Let us help you with storm damage cleanup whenever you need us.
Hurricanes are not the least of Georgia's worries, with the right geography and climate, tornadoes and severe storms can occur as well. Over the decades we've been in business, metro Atlanta has had suffered significant tornado damage. We've helped countless homeowners and business owners clean up the mess, and we'll be glad to be there for you as well.
The Signs Of Tree Problems
Trees near our houses can be great since they can provide shade and cooling in the summer or insulation in the winter, but they are not all friendly. One bad storm and a tree can fall, tearing through your roof, breaking into your rooms and destroying everything in its path. There comes a time when they need to be taken down before they cause harm
If you notice these issues, it may be time to call a tree service like ours:
Disrupted or raised soil at the base of your tree trunk
Fungi, such as mushrooms, growing at the base of the trunk
Chipped or peeling bark and cracks in the trunk
Holes in the trunk or primary branches
Dead or hanging branches at the top of the tree
Twigs with dead buds near them
If you notice any of the above, call one of our certified workers to have a free consultation!
We have arborists on staff ready to help you.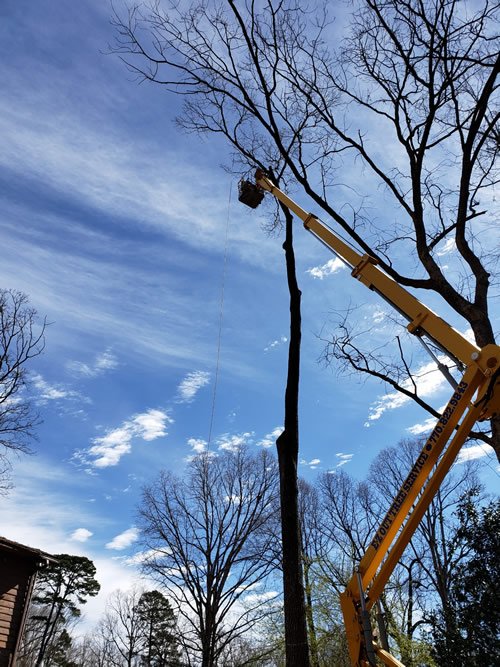 Need Tree Removal?
It's no secret that tree branches can cause a massive amount of damage to your property. But, how do you know if the branches or whole tree needs to come down? That's why we have certified arborists on staff.
We can come to your home or business and assess the health of your tree. With more than 30 years of experience, we can tell you where trees pose a specific risk to your property.
It's always recommend that you consider removal services should you find that the trunk of the tree is severely damaged including vertical cracks. Also, if you spot any large dead branches, or dead limbs on a particular side of the tree removal is highly recommended. The first step you should take is to call us and get an expert opinion on your situation to decide the best course of action. Below we have listed a few of the benefits associated with our services.
Creating Space: Trees often take up much need space for additions such as a shed, pool, decks, and any other expansions to add value to not only your home but your day to day life.
Protection from Falling: Trees that have begun dying can be a huge risk to people, cars, roofs, and even power lines. Contacting a professional allow you to get a better opinion on the best course of action to protect your investments.
Improved View: Depending on the position of trees around your house, they can have a huge impact on your view of the area that surrounds you.
Damage to Driveway, Sidewalk, and Foundation: Different types of trees can have enormous expanding roots. As they continue to grow, they can cause sever damage to any concrete structures on the surrounding property leading to an immeasurable amount of damage.
Improved Street Appearance: Trees planted in certain areas around the front of the home can impact your home's appearance to other people. Removing or trimming these trees can greatly improve the appearance and value of your home.
Why Choose E-Z Out?
One thing is for sure, removing dead tree branches or entire trees is dangerous work. That's why you want to choose carefully when calling a tree removal company. Here are some of the reasons we thing we're a great call:
Arborist on staff

Emergency 24-hour tree removal services

Licensed & Insured

Over 30 years of experience

Family owned & operated

Residential & commercial tree removal

Experts in hard to remove trees
We take pride in treating our customers like family. Every job we receive big or small receives the same high-quality assistance we strive to be known for. We've known some of our customers for decades now. Let E-Z Out Tree Removal be your first call when you need help with your trees.
For a free quote, give us a call.  770.822.9843
24 Hour Emergency Service!
Emergency Tree Removal Services For Duluth GA
Because Mother Nature Isn't On A Schedule
E-Z Out Tree Services offers 24-hour tree removal services because we understand that it's never a good time for a tree to fall on your car, your home, your business or your property. The timing is always bad.
For the past 30 years, E-Z Out Tree Service has been an American owned and operated local tree removal company located in Gwinnett County.
We offer residential and commercial tree removal services, so when you need help either protecting your home or your business, make us your first call.
24-Hour Emergency Tree Removal Service
Here in Georgia, we get our fair share of storms. There's just no getting around that. When you mix that with our love for trees here in the South, it can become a dangerous combination.
When a serve storm alert comes through, the first thoughts you have may not be about trees falling and hitting your house. But, the weather can change quickly, meaning that even a perfectly healthy tree can fall, it happens, and if it does, make E-Z Out Tree Services your first call. Day or night, we'll be there when you need us.
Who Pays For Your Tree Removal?
With our 24-hour tree removal service, we can remove the tree off your house skillfully and safely without causing further damage. So, when a tree falls, you will be able to have it safely taken care of without worry. Prices for our services will be determined by location, size, accessibility, and if you need complete removal of all wood, limbs and debris
E-Z Out Tree Service works with your insurance company, so your payment doesn't have to come entirely out of your pocket. We will tell you exactly what you will have to pay before we do any work. Our goal is to help you not have to come out of pocket.
We also work with restoration companies to get your home repaired. With our years of experience, friendly attitude, superb references, commitment, you can be confident that we will do an excellent job for you.
What To Do If A Tree Falls On Your House
Get to safety!! Make sure everyone is safe but be mindful of down electrical wires. We do not want you to come to harm. It is imperative that you get help determining if it is safe away from your home for the time being. Once you are at a safe distance, Call E-Z Out Tree Services! We offer great service and have skilled teams of tree cutters, climbers, and a lift to come to your aid.
Make sure to contact your insurance company (we will help with your insurance) and follow their directions.
How to Prevent Your Tree from Falling
We realize that sometimes things happen to bring part or all of the trees around us down. There's nothing anyone can do about that, but there are some things you can do to give yourself some insurance against tree damage. Here's our quick list:
Make sure to do regular checks on the trees around your house or property. Check the list above to make sure none of your trees are potentially problematic.
If you have saplings growing near your house, make sure they are not too close and if needed pull them. Trees that are starting to grow and leaning towards the house can be gently pulled in the opposite direction with some string, a proper rubber casing to hold the tree, and a spike to put in the ground.
Other things to watch for will be trees that are leaning towards the house (larger trees), tree limbs that may be broken off and hanging, or trees that are dead and are being supported by the trees around them.
It may be easy to forget but doing a quick visual scan of your surroundings every few weeks especially after a severe storm will help you identify when there may be a threat to your house. If you see anything like what has been stated contact E-Z Out Tree Services today.
Safety First
Safety is our number one concern. We work diligently to make sure that we use the best equipment to tackle those hard to reach branches and trees. Most trees are around Atlanta are no more than 100 feet tall. Given that, we have a ninety-foot lift that allows our workers to ease their way to the tops of trees without causing harm to themselves. Our lift contains a gated platform so that our workers can safely move around the tree while trimming.
If we have to climb a tree, our guys are experienced experts at getting where they need to be and securing the limbs and branches that need to come down. That's how we avoid problems on the ground with falling debris which can be a major hazard.
You can rest easy when you call E-Z Out Tree Service since we have our General Liability and Workers Compensation Certificate
Lastly, our crews take great pride in their work and the cleanup job has been described as "immaculate" by some of our customers.
Whenever you need trees or branches removed around your home, work or property, trust E-Z Out Tree Removal Service. Day or night, we'll provide the emergency tree removal you need to begin to make things right again. 
About Duluth Georgia
E-Z Out Tree Service has worked with home and business owners in and around Duluth for over 30 years now. We appreciate the history and culture of Duluth. Not only have we been members of several different professional tree service organizations, but we also do what we can to help out in the community.
Duluth Georgia was originally Cherokee Indian territory. Most people don't know that Old Peachtree Road used to be an Indian trail that connected Fort Peachtree (now called Atlanta) to Fort Daniel which was in Dacula. Once the railroad came along, Duluth Georgia was actually named after Duluth Minnesota. Since those days, it's grown to more than 20,000 residents and a hub of business and culture. We're proud to provide tree services for Duluth.
Call E-Z Out Tree Services whenever you need help with any tree services.
Safety is Our Priority!
Cutting down trees is always risky. That's why when you call to have a tree removed, we send out an expert team of climbers and cutters to safely lower removed limbs to the ground to reduce mess and improve safety. Protecting the surrounding environment is always one of our top priorities. All removed limbs and wood are chipped and hauled off site. Any removed debris is taken to be completely recycled to make sure nothing is wasted.
Our crews take great pride in their job and our cleanup services has been reviewed as "immaculate" by our many satisfied customers. With our experience, we have acquired an excellent reputation and strive to be the best company in our field.
Frequently Asked Questions
There are a few things you might be wondering about how our service works, and how we determine pricing etc. Listed below are a few questions most customers generally ask when looking for tree services.
Do we provide free estimates?
All our estimates are absolutely free with zero obligation on your part.
Are we Licensed and insured?
Here at E-Z Out Tree Service, we carry general liability insurance and workers compensation. We have a certificate provided directly by our insurance provider.
How do we determine the price for tree removal?
When we provide an estimate on any given job, we base the pricing on four different factors. We determine your final price by examining the location, size, accessibility, and the need for complete removal of all limbs, wood, and debris. We also accept check, cash, and all major credit cards for payment.
Our Service Area
Across the decades, we've worked with thousands of home and business owners all around the metro Atlanta area. We're located in Lawrenceville, but we've worked with customers all around Buford, Lawrenceville, Braselton, Dacula, Hamilton Mill, Buford, Statham, Winder. We provide service all over Gwinnett and Hall counties. Call us for a free consultation today. 
Click here for information on our tree pruning service.
For a free quote, give us a call.  770.822.9843
American Owned and Operated!
For Your Protection: We are Licensed, Bonded, and Insured.
Tree Removal Service Area